JANUARY 2018
HAPPY NEW YEAR EVERYONE.
Hey, it was a great Christmas season here at Spyda Creations. I am looking forward to what the new year brings. I've gotten to talk to many fans and friends in the business to see what they hope to find from us in the coming year.
One thing I hope to do is create more of the easier kits to paint, like the selection of magnets I have made. I like seeing new kids starting to pick up the hobby and in the magnet series of sculptures, I designed then with textures that make dry brushing very easy. This way, a beginner can start the basics and have a kir that lloks great when done. Leave the airbrushing and wash techniques for the next stage. Expert painters have been enjoying the kits as well and it is always wonderful to see what they come up with.
The first new magnet this year is The Mummy.
I couple friends wrote in asking for more of the classic horror characters and hoped that this would be my next kit.
So here he is. You can purchase and unpainted or a painted one in our store.


There's always something new in my store. Grab something early, before the snow starts falling.
I love scarey movies. Did you see IT? I did and I loved it. I just had to sit down and do a piece based on it. Here it is. It's a magnet. You can get it unpainted, painted or in glow in the dark!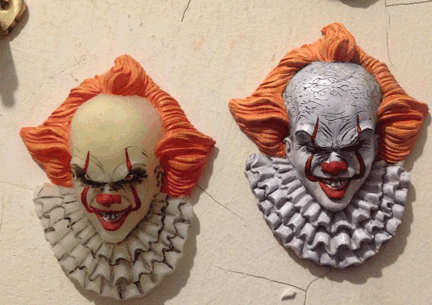 Check it out. Some of you have been writing in for years to find out when you'll be able to get a copy of the sculpture. Sadly, it wont be a painted statue any time soon, but now you can get it as a model kit.
Find it in our Store.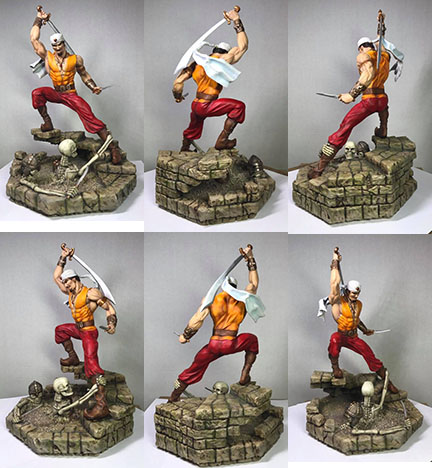 Red Sonja bendy
I am very happy to announce the release of my new Red Sonja bendy figure. I am signing the boxes and selling them for $20 each plus shipping. Find it in our Store.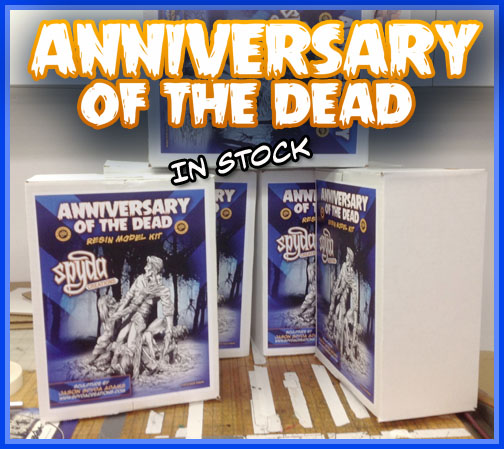 It makes me very happy to bring you the third addition to my Graveyard Series of resin model kits. This one is called Anniversary of the Dead. it tells the tale of a serial killer who has burried a wife every year for some time. On this occasion when he is about to bury a fresh one, the Zombie Apocalypse happens, and all his victems come out to greet him.
This was a really complicated one to sculpt and i think you'll love building and painting it.
The Graveyard Series are each kits of the same scale that take place in a graveyard, so you can collect them as they come out. others in the series are "You've Been Spotted" and "Spoil'd Rotten"
Tournament Challenge

I am always saying that I sculpt but don't paint. But I did need to get a Tournament Challenge painted up for display, so I broke down the sculpting set up for the weekend and built up a painting station. After showing off three color concepts to friends on facebook, this was the final decision.
A Great Site for Kit Builders
I keep meaning to expand my site to include Tutorials for those who wish to improve their Kit Building skills. For me though, I am always looking for more time to sculpt, so the info I would give woul really be links I send you to look at other people's tutorials on painting and building. However, I made a new friend in a guy named Jason Gares who does some pretty awesome tutorials. Well, more than some, a whole lot. Lots of great information, product reviews, and videos he does showing how he takes model kits to the next level. He works for Fantasy Modeller Magazine and now has his own site called the Video Workbench. I think this is a great place for you to learn more about improving your skills. And, even more cool, his most recent video is on my Tournament Challenge model kit. He has some fun ideas. It's always great to see what people do with these kits. While my vision of the girl on the beast might have been your typical Conan/Red Sonja type look, Jason changed the dry sandy base to be a hardened molten glass and the girl a metalic warior. Gott love it.
Click the image below to go see his site.


While we are on the subject of tutorials...
I got a really nice email from a guy who seems to be just getting back into the hobby of painting model kits again.
"I love the unpainted werewolf magnet. Your video is getting me right back into painting again and I am having a great time. This is so much fun that I am ordering a couple more werewolves for my boys to paint. Is there any chance of getting an unpainted Dracula as well?" Mike from TX
That's just the sort of email that makes my day. I did this tutorial as sort of an ameteur painter, myself. I don't paint nearly as well as some of these guys, but I know a trick or two. I sculpted my magnet series to bea easily painted by dry brush, by using a lot of textures in the sculpting. The kits come already primed black, so all you need is paints and some brushes. My tutorial lasts about 45 minutes and is uncut. Not very exciting if you are not interested in the topic, but it seems to be working for some.


Anniversary of the Dead
This is how the new piece is coming along. It's going to be part of the Graveyard series, where I hope to just keep adding kits to the set so you can build a graveyard by adding a new piece every year.
This one will tell the story of a serial killer who murders a girl every year and this year, the Dead come back to life just as he is about to dig her grave. But his past victems emerge from the ground to get him. Even the newly dead girl will be waking up. To get the whole story, you must view the piece from all angles, each angle revealing something else.
This is how it's coming along.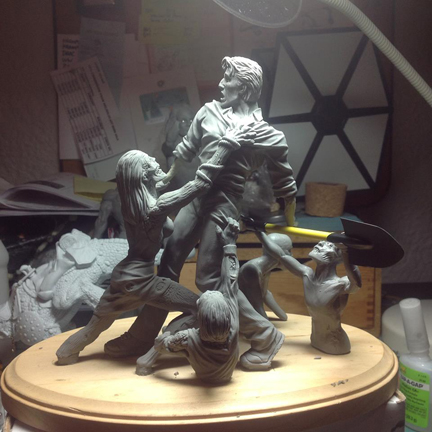 New Resin Kits

Tournament Challange
Available NOW

I am really proud of this one. Challenge is the third in the Tournament series, and I once again, this kit has my favorite qualities in 3 dimensional art. For one thing, it is designed to look at and hold it's motion and composition from any angle. Another is there are lots of little details for the kit builders to paint. The pose of the figures came out just the way I intended. the lumbering beast has a different weight than the beasts in the other Tournament pieces. This one a heavier, more lumbering creature who runs like a large excited dog. Almost clumbsey. With the girl's shins resting at the thighs of the creature, she can feel it's movements as if the two hind legs of it are her own, thus giving her a sense of balance and even grace. Check it out in our store, where I have more pictures.
#SexyResinKit

Deadman - Email for details Spyda


The Zombie Shadowbox

Now available in our store. The Zombie Shadowbox is a kit you hang on your wall. The image is that monet in zombie movie where the zombies start breaking through the boarded up windows. These two zombie have lot of detail and will be a blast to paint. Each kit comes with an actual shadow box that has the wall mounts build right into it.


One of the strokes of luck in my life is that, not only is my wife Bridget beautiful, but she is a talented Graphic Artist.
I felt that the Shadowbox kit is done in a style fitting the old Tales from the Crypt and similar magazines. So I asked her to make the box art for this piece look like those old great covers, but modernized.
I love what she did with it

Catrina
Back, about 15 years ago, I was not doing model kits. I had gotten right into the Toy sculpting field when I was in college. I had always considered doing model kits because the artistic freedom was very exciting to me. But I was making way too much working in toys to have time. Then I had an accident and was in a wheelchair for some time. I think I was a little depressed and not doing anything, really. I had been doing some acting before the accident and my acting buddy, Ed, came to keep me company. I think he saw that I was not in great shape menatlly, and wanted to get my artistic juices flowing, or perhaps, just get me off my lasy ass.
"Make me a woman." he said.
After having a laugh over the statement itself, he gt more to the point. he wanted me to culpt something for him. Make a Fantasy Woman that would be my idea of what his dream girl was. How could I say no to this guy who came to see me in that time when I was so down. The result was Catrina, which I had decided when I saw how nice it looked, should be my first resin model kit. The artistic freedom was addictive and I from that point on knew I needed to do more to express myself as an artist.
Because I am allergic to the chemicals, i had to find someone to mold and cast for me. After some research I picked a place who did the molds for me, but after recieving about 10 castings, they

dissapeared. The molds never made their way back to me. I did have the original clays returned, which was very important.
By time I found a new Mold Maker, I had more sculptures to do. Catrina sat on the shelf. Recently I repaired the damages in the clays from the first molding and had it re-molded and cast so I can re-release her. Ed Holt is making a batch up for me now, and I will have her available in the site soon. This sculpture represents many positive things. Passion, friendship, artistic expression, fantasy, female form, and change for the better.
Catrina has also found a place in my writing, so hopfully before too long, you will learn the story behinf her in a world I set her in.

Laignach Faelad. The Wolfmen of Tipperary. I wanted to do some new pieces on actual folklore from around the world. This one is the first.
Now in our Store!

Now in our Store!

Now available in our Store!

$220 plus shipping.

Werewolf Refrigeratro magnet.

The idea here is, I wanted to make something simple enough to paint for those beginners who often come by my booth at shows and wish to buy a model kit but haven't done it before and find it intimidadting. I thought it would be great to make something they could begin with. Not that the more experienced wouldn't want these too. But I hope to encourage people to start in the hobby. I even shot a video on how to paint this using a simple dry brush technique that anyone can do.
Now in our Store!

New in Our Store

The Zombie Refrigerator Magnet
Fully Painted
Now in our Store!
Manbat - DC Direct Batman Black & White Series

This was the second piece I did in the DC Direct Batman Black & White series of statues.

I'm really excited about it. it's based on my father's design and character. He's the creator of Manbat, so when DC contacted us about doing another statue, he asked if we could do Manbat.

I'm hoping that they'll do a lot more with us. My wish list would be: Ras Al Ghul, Green Lantern/Green Arrow, and Deadman.
Scorned

I'm really glad that I can finally show this one off, and offer it for sale in my store. I was asked by a friend to do a zombie bride for production. It sounded like a lot of fun to me, so I started making sketches right away. At first, the sketches were pretty basic. Neat ways of doing rotted women and cool poses. All the normal process. But, if you know me or my work, you'll know it can't be that simple. I want a concept, a story, and a reason for this to be a sculpture and not just a drawing or painting. The design that satisfied me was like the statue you see to the right.

You see from behind, a lovely bride standing in a graveyard. Perhaps she dressed up in her wedding dress to visit a dead fiancee's grave? Whatever the reason, she is remarkable, and you need to step closer to see more of her. Walking closer you see her perfect profile, she is gorgeous, and you need to step even closer. As you step up to her, about to speak, the moonlight shines on the right side of her face, and you see she is a horrible rotting corpse. But your realization is a second too late, you gotten too close, and the zombie is upon you.

Looking at the sculpture from behind, you see only a lovely bride, but when you turn the sculpture, you see the zombie she really is. Now that is a great reason for this to be a sculpture. Check out my store. I have these available as unpainted kits, and as painted statue
Batman Black & White Statue in COLOR!!
This was done just for fun. We've had so many N.A. fans tell us they'd love to see a color statue of his Batman. Not easy to do, but our friend Dan Jorgensen managed to take apart a statue, get the black and white paint off and repaint the statue in full color.We love it! Thanks Dan!
Click the images below to see them bigger.







For sale in our store.

I thought it would be fun to continue doing zombies at the same scale, now and then, for those who'd like to collect or build cool dioramas. Of course, each alone is cool too, but a shelf full of these would be a lot of fun. The first was "You've been Spotted." Now we have "Spoil'd Rotten." My first female zombie kit. Get yours in our store.
---
---
---
| | |
| --- | --- |
| Going Ape BRONZE statue. Never before has there been a Neal Adams bronze statue before. Not even a prepainted statue. And there has never been a bronze statue available by Jason Spyda Adams. We got the first one back right before Christmas and we were all blown away. It's been the center of attraction every day at Neal Adams' art studio in NYC. It's a limited edition of 200 at most. Fewer may be made depending on how the molds hold up. | |
The Going Ape Bronze Statues are available now in our store here on Spydacreations.com and on nealadams.com.
Molding and Casting
As some of you know, I don't do my own molds and casts due to allergic reactions to the chemicals. I was working with a great guy, Dan Lane, who did fantastic work. Unfortunately, Dan wont be doing molds and casts anymore so I needed to find a new guy. After endless looking and phone calls, I met Ed Holt of Monkey Works. Ed is an awesome guy who loves the hobby and takes into account that people in the resin kit business need low prices in order to ever see a profit. He took the time to learn what our needs are in this business and soon we struck a deal and he molded and cast Going Ape for me. He's done a fantastic job. I've had as many compliments on the castings as I have on the sculpting. I am giving him props here on the site in order to spread the wealth to other sculptors who wish to have resin kits made of their work or if you need castings for the toy business. Take into account that this guy gets paid bigger money when he works for bigger companies but is still willing to work with us. I hope to bring him a quantity of work that'll make up for the discounted prices that he gives us. Contact holthill@aol.com