TOURNAMENT
Resin Model Kit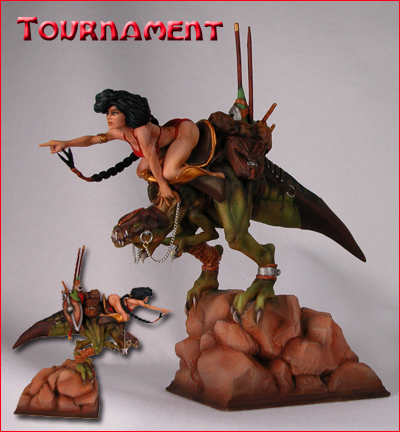 Simple, yet complex, this sculpture that Spyda calls "Tournament" shows off his skills and his sculpting philosophy. Spyda feels strongly that a sculpture should be interesting to view from all angles, or else it may as well be done as a flat illustration viewed from one angle. The design of Tournament fit this multi-angle concept perfectly.
Pausing atop a cliff, the woman leans forward on her beast and the beast tips ever so slightly forward, causing the viewer to feel the tension and weight for the figures to continue forward over the cliff, to the next town and the next tournament. Her arm forward points where she wants her beast to go, the wind pushes her hair forward.
The angles of the figure cause the viewer to feel the tendons of the beast's ankles as if it were about to take off. Wether you look at this figure from the left side, right side, front, back, three quarter, you get the same effect. It turned out to be a very exciting piece and we are proud to make it available to you.
The figure stands at about 10 inches tall.
Aslo available as a painted statue.